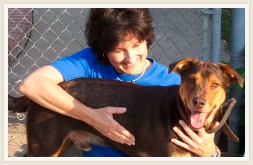 The mission of Animal Relief and Rescue Fellowship, an all-volunteer organization, is to provide responsible, humane care and treatment of animals from the city of Leland and the surrounding unincorporated county area. Our goals to achieve this purpose are:
To provide medical treatment for all animals in our care that are sick or injured
To operate an adoption program which places all adoptable animals in responsible, loving homes
To make sure that all animals in our care are spayed or neutered before going into an adoptive home unless they are too young for the procedure
To follow up with adoptive parents of unaltered puppies to make sure they are spayed or neutered at the appropriate time
To help facilitate a low cost spay and neuter program for area residents in need
To humanely euthanize those dogs that are too sick to save or too aggressive to safely and responsibly place in an adoptive home. Euthanasia will be performed by a licensed veterinarian
To educate people of all ages regarding the humane treatment of animals
To build a new, more humane animal shelter which will focus on the health, safety, and comfort of the animals, as well as, ease of maintenance
History of the Organization
ARRF was founded in 2001 by Ann Fratesi who serves as its current director. The local animal shelter in Leland, MS, had no policies or procedures in place to assist or aid any homeless dog brought into the shelter by the local animal control officer. Dogs were usually put to sleep by shooting—yes, gunfire—within a few days if not hours of their arrival at the shelter. Ann confronted the City Council about this atrocity and was offered control of the shelter if "she thought she could do better". And better she did. Although the shelter remains the substandard holding facility for dogs that is was in 2001, Ann has taken a shelter that was euthanizing by shooting 99% of its dogs to now adopting over 98% of its dogs to compatible, loving families. ARRF is providing necessary spay/neuter procedures to these dogs as well as vaccinations, rabies, worming and flea medication, and the critical treatment for heartworms that plagues our region. In spite of minimal funding and even the use of personal expenses, any dog that can be saved will be saved and placed in a loving home. For the last 2 years, we received in excess of 300 dogs and puppies. The only animals that are euthanized are either too sick to save or too aggressive to responsibly place in a home. In 2016, we successfully placed 313 dogs/puppies and lost 2 dogs to extreme illness. ARRF has adopted dogs into loving forever homes in 38 states. We adopt locally and we work through other rescue agencies in the northeast to place as many healthy, happy dogs as we can in loving homes.