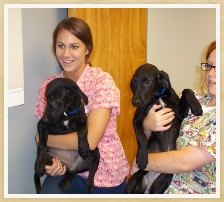 Since ARRF is 100% volunteer, we cannot help the dogs without dedicated people who are committed to helping these dogs in need. Volunteers are always needed for assistance at the shelter, but you can help in so many more ways.
Shelter Volunteers:
If you would like to help us by volunteering at the shelter, we always need extra hands for:
Walking the dogs
Driving the dogs to and from the vet's office
Helping to take photos for adoption postings
Socializing the dogs
Assisting with vaccinations and other routine vetting requirements
Driving the dogs to the transport destinations.
Other Volunteer Activities:
Many people do not want to help with the dogs at the shelter and we understand this. You can help our organization and never see the first dog. How is this possible?
Bakes Sales are a regular occurrence. Baked goods are always needed.
Participation in Fundraising Events. New ideas, new events are always needed and considered.
Fostering—Fostering is an important part of transitioning a dog to their new home. Please consider foster a dog or puppy.
Internet posting. We always need help in posting dogs and information online so we can help get these wonderful canines adopted.
Facebook posting—Need I say more?? Social media is an important part of what we do and how we communicate.
Newsletters—we always need stories written and envelopes stuffed for newsletters.
Grant writing—Calling all grant writers. Even if you can't write grants, search the internet for grants or programs that we could be part of that would benefit our mission in rescuing animals.
We are open to any and all suggestions for improvements at the shelter and for fundraising efforts.